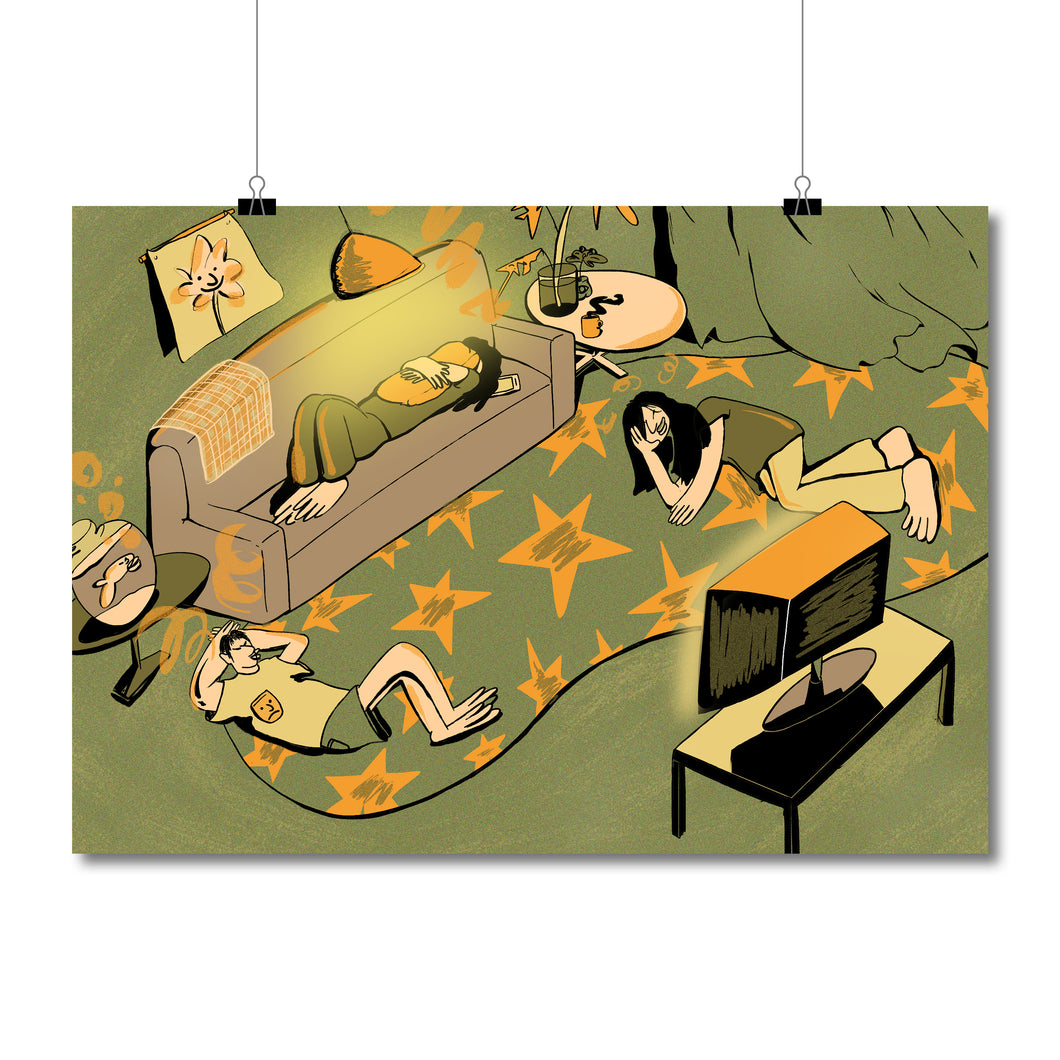 Jun Liang - Intimacy in Inaction
Regular price $67.00 Sale
Someday, 2020 will be a distant memory. During the circuit breaker period, Kult blasted an open call for digital artists regardless of experience, to spew all their feelings onto the virtual canvas under 3 categories - Escapism, F*ckvid-19 and Intimacy. All pain is valid, and we're sure someone out there feels you too. 
---
Intimacy in Inaction

Intimacy doesn't have to start with action. Silence is intimate. Comfort is intimate. Presence is intimate. In the clusterfuck of batshit (excuse my french) that's going around nowadays, the mundane act of being present with the ones you love is intimate. Amidst the daily hustle that is our city, the pause that circuit breaker has given us has thrust many of us into a dream-like limbo - we lose track of time, we forget what day it is, whether we've showered today. For some of us lucky ones, it starts with a newfound appreciation for free time - time spent with family, time spent with ourselves, time to heal. Then, we forget and slowly start to get jaded and lament the isolation because the grass is quite literally greener on the outside.

With this piece, I illustrate a would-be hazy memory of being in the living room, television filling up space, reaching a state of borderline torpor. It is a reminder of the quiet intimacy, with ourselves and the ones around us, that many of us have been reminded of during these times. It is a reminder of a time we reminded to slow down, and just be.

---
Artist: Jun Liang, @a.ngkukueh (SG)
Category: Intimacy
Smooth Fine Art Print on Smooth Fine Art Paper, Unframed

For more information, email design@kult.com.sg

Don't wish to pay for postage? You can personally collect the item at Kult Gallery by entering the code "SELFCOLLECTX01" when you checkout!

Postage only covers normal mail. For express shipping, kindly e-mail orders@kult.com.sg.