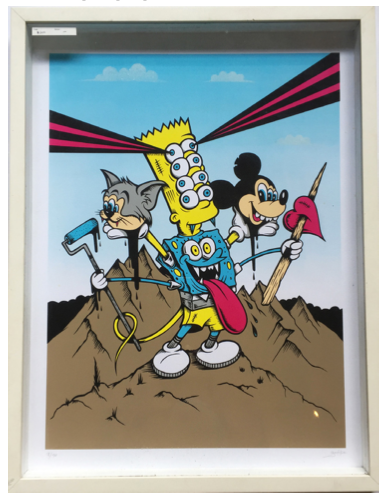 Greg Mike - Identity Crisis
Regular price $290.00 $200.00 Sale
Born and raised in Connecticut, childhood trips to NYC in the mid-'80s exposed "Greg Mike" Mensching to the creative potential of reinventing public spaces through art and design. Mixing the take-no-prisoners bombast of classic NYC street art with the eagle-eyed precision of mass market illustration and animation has been his goal from the beginning. Further inspired by his deep involvement with skate culture and his intersections with the design world, he has become known for pieces that incorporate vivid explosions of incandescent color filtered through a Surrealist Pop Art perspective.
--
Artist: Greg Mike (US) 
Information: 
Measurement: 64.5 x 49cm, framed 
Material: Digital Print, Hand Embellished
Edition 18 out of 50 
For more information, email design@kult.com.sg

Don't wish to pay for postage? You can personally collect the item at Kult gallery by entering the code "SELFCOLLECTX01" when you checkout!

Postage only covers normal mail. For express shipping, kindly e-mail orders@kult.com.sg.