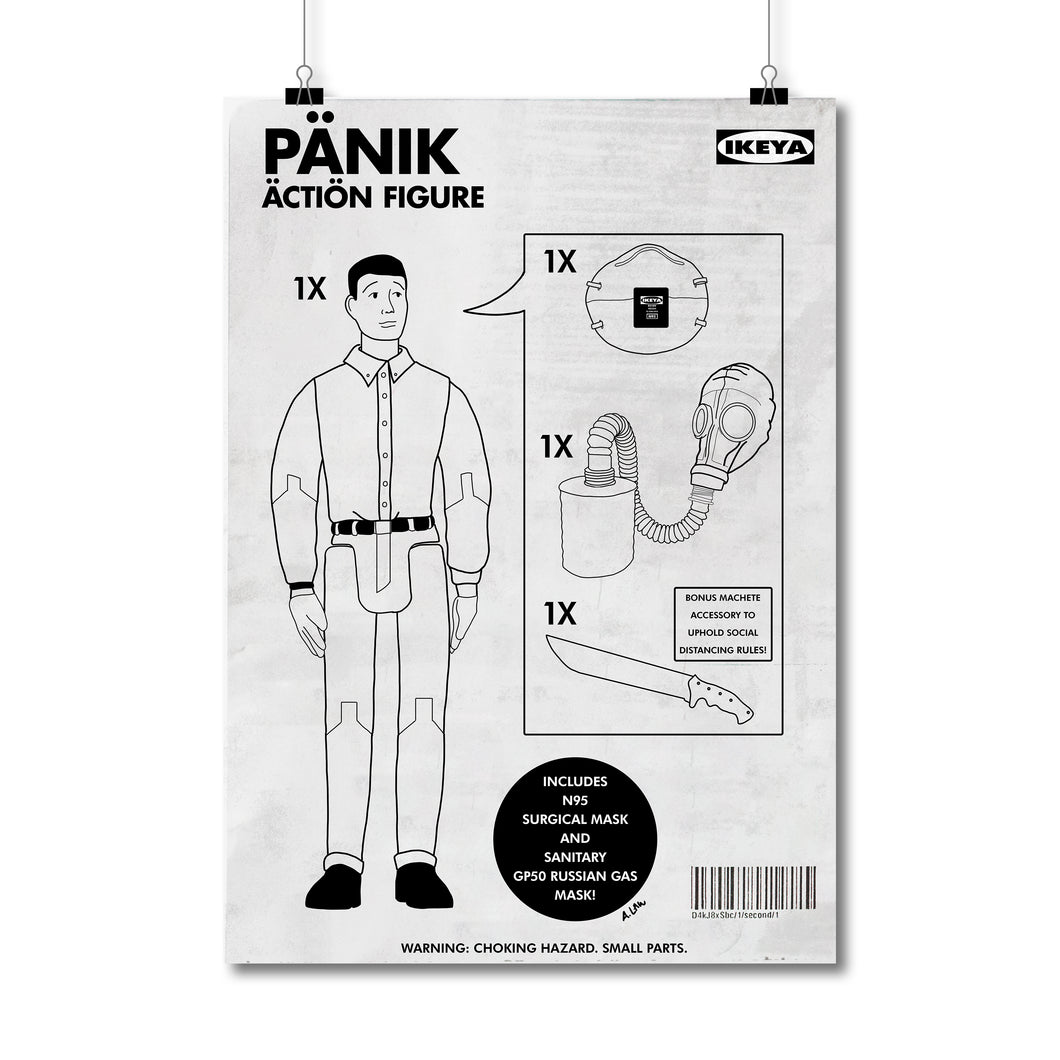 algermophobe - PÄNIK ÄCTIÖN FIGURE
Regular price $100.00 Sale
Someday, 2020 will be a distant memory. During the circuit breaker period, Kult blasted an open call for digital artists regardless of experience, to spew all their feelings onto the virtual canvas under 3 categories - Escapism, F*ckvid-19 and Intimacy. All pain is valid, and we're sure someone out there feels you too. 
---
PÄNIK ÄCTIÖN FIGURE

Nothing spells panic quite like over buying toilet paper right? Why not bring it a step further with the PÄNIK ÄCTIÖN FIGURE? It might seem a bit old in these high-tech days, but retro is in- good quality, natural, durable material and it never goes out of style. This action figure comes with incredible posing ability, two pandemic preparatory accessories and a bonus!

With surgical gloves to prevent pesky viral particles from digging into his skin, the germophobic Mr PÄNIK has the N95 surgical mask accessory. But it's Mr PÄNIK we're talking about here- he's in the middle of a goddamn pandemic! That is why he has the GP-5 Russian gas mask accessory to fully defend himself from the contaminated air outside! To complete the look, we've provided a bonus machete accessory, to ensure he upholds the social distancing rules by punishing those who flout it!

Now Mr PÄNIK can beat the long queue outside a certain Swedish furniture store during the pandemic by hacking people up, staying safe from the polluted air, and hoarding as many meatballs as he wants!
---
Artist: algermophobe, @algermophobe (SG)

Category: F*ckvid-19
Smooth Fine Art Print on Smooth Fine Art Paper, Unframed

For more information, email design@kult.com.sg

Don't wish to pay for postage? You can personally collect the item at Kult Gallery by entering the code "SELFCOLLECTX01" when you checkout!

Postage only covers normal mail. For express shipping, kindly e-mail orders@kult.com.sg.