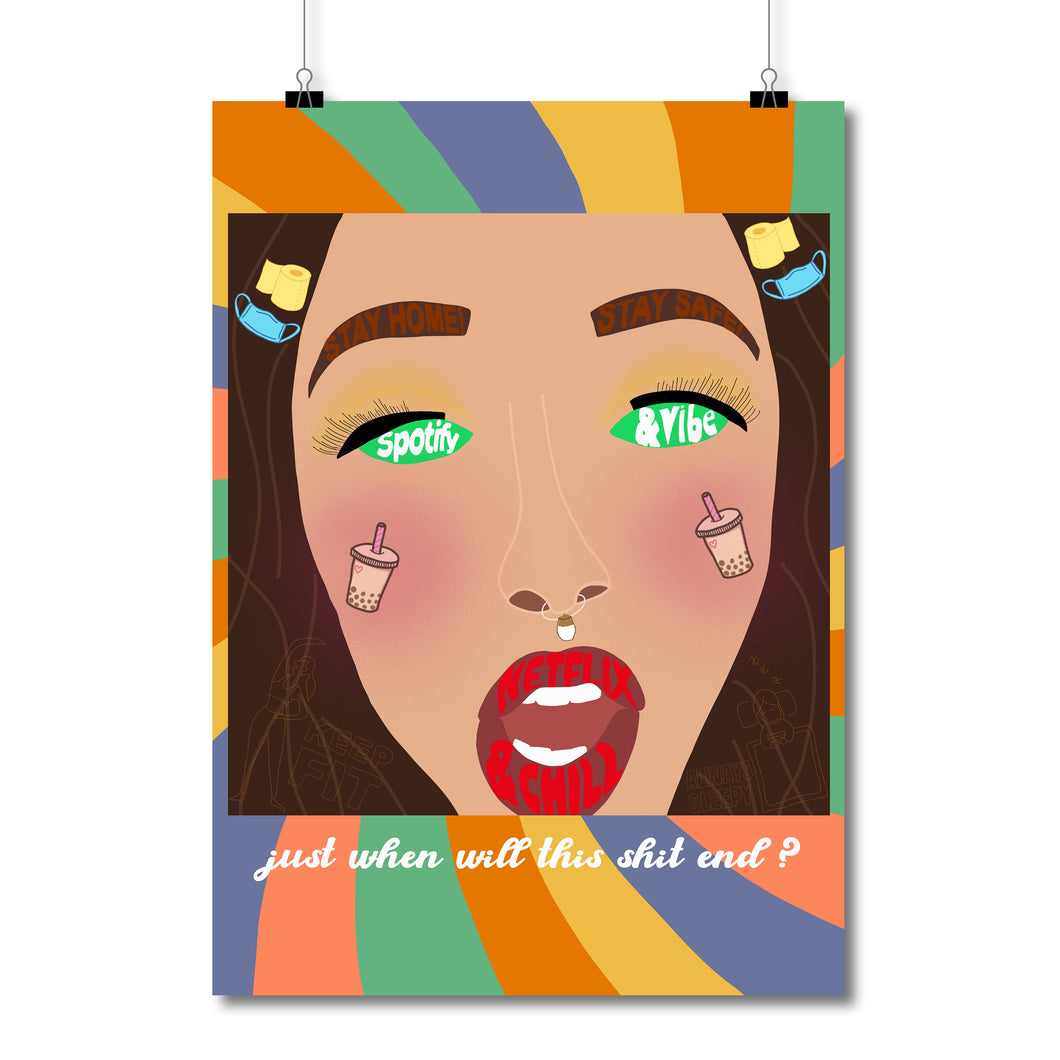 Megan Chia - just when will this shit end?
Regular price $64.00 Sale
Someday, 2020 will be a distant memory. During the circuit breaker period, Kult blasted an open call for digital artists regardless of experience, to spew all their feelings onto the virtual canvas under 3 categories - Escapism, F*ckvid-19 and Intimacy. All pain is valid, and we're sure someone out there feels you too. 
---
just when will this shit end? 

It's stay home, stay safe szn. Things are slowing down for us & it's inevitable to lose track of time. We all sink & indulge ourselves in different things as a form of escapism.

As we try to run away from reality, how many songs can we listen to & how many Netflix shows can we watch? Are we longing for a precious cup of bubble tea or whipping up another dalgona coffee? it's a gr8 time to keep fit, have discipline & be productive! But sometimes we just want to forget everything & sleep the days away. Just remember that it's essential to wear a mask when you head out & be socially responsible by not hoarding all the toilet paper!

It seems like distracting ourselves during these strange times is key. We can indulge in our guilty pleasures all we want. We can be productive & hustle hard. Learn to appreciate all the time that we have to ourselves and with our family right now. Do whatever you need to cope. Everyone copes differently - it's alright.

And as we are all facing instability & uncertainty, this question will always be lurking in the back of our minds: just when will this shit end? because who doesn't want COVID-19 to go away, right?
---
Artist: Megan Chia, @riiithumta (SG)

Category: Escapism 
Smooth Fine Art Print on Smooth Fine Art Paper, Unframed

For more information, email design@kult.com.sg

Don't wish to pay for postage? You can personally collect the item at Kult Gallery by entering the code "SELFCOLLECTX01" when you checkout!

Postage only covers normal mail. For express shipping, kindly e-mail orders@kult.com.sg.